Termoleader produce scambiatori di calore a piastre per impianti alimentari e per i costruttori di macchinari destinati alla produzione di alimenti.
La flessibilità di customizzazione e di reperibilità del materiale permette a Termoleader di progettare e costruire scambiatori interamente in acciaio inox AISI304 e/o AISI316 con guarnizioni certificate in accordo alla Food and Drug Administration (FDA). È possibile inoltre selezionare la tipologia delle connessioni in base all'esigenza del cliente, dal DIN 11851 al Tri Clamp DIN 32676 fino alla soluzione flangiata DIN 11864-2. Tutte le soluzioni Termoleader garantiscono una facile ispezione per le operazioni di pulizia e manutenzione.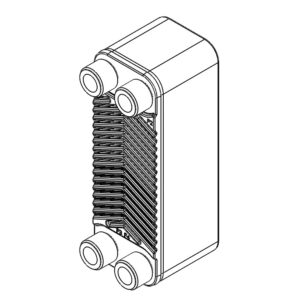 Connections ¾"
The heat exchangers are constituted by a pack of heat exchange plates of material suitable with the fluids that need to exchange heat, held together by a brazing realized in different types of material (copper, nickel, stainless steel).The plates constitute two channels, one for the hot fluid which transfers heat to the other, and one for the cold that receives the heat. The brazed plate heat exchanger presents the main advantage of the compactness, since it is consisting only of the plate pack, definitely lower in size and weight than a similar heat exchanger equipped with the inspectable frame.
TECHNICAL SHEET ABZ07-20
TECHNICAL SHEET ABZ07-30
TECHNICAL SHEET ABZ07-40
RICHIEDI INFORMAZIONI